Blog

Article By Ashley Rayner -
It shouldn't come as much of a surprise that vacations are good for us—after all, taking time for ourselves to discover new places, to engage in activities we enjoy and even just to spend quality time with family and friends all seem like great things to do and pleasant ways to spend our time. But vacations have some other surprising health benefits that you may not know about. These 8 benefits show why taking even just a short vacation is good for you and everyone around you (including your co-workers!).
8. Vacations Decrease Stress
We'll start with the obvious: taking a vacation is a great way to bust stress, a view supported by multiple studies and the American Psychological Association. The day-to-day grind of our hectic lives can leave us feeling overwhelmed, like we have too much to do and too little time. Often, we have competing demands: maybe there's a big deadline at work that's fast approaching, but you need to make time to care for a relative or child. Evenings and weekends sometimes aren't enough time to unwind. Taking a vacation gives us more space and time for ourselves, to do the things we like to do and things we want to do. It allows us to get away from, say, the co-worker we don't like or to forget about doing the laundry. Even though it's a temporary escape, taking the time off can have a huge effect on our stress levels.
7. Your Health Will Improve
Several studies have shown links between vacation time and decreased risk of particular disorders and diseases. In the landmark Framingham Heart Study, taking regular vacation time was linked to a lower risk of heart disease, an outcome that was repeated in other studies, like the National Institutes of Health's Multiple Risk Factor Intervention Trial for the Prevention of Coronary Heart Disease. While it's hard to say if the vacation itself lowered the risk (perhaps by lowering stress levels) or if taking vacation time is just a habit of people who live lower-risk lifestyles, regular vacation time was definitely implicated in improved cardiovascular health. People who took at least 1 week of vacation each year were 30% less likely to take a heart attack than their colleagues who skipped vacation time. So book your getaway—it's good for your heart.
6. Relationships Grow Stronger
It's no secret that the key to successful relationships is spending time with other people. Unfortunately, our personal ties often take a backseat to professional pursuits. Working too much can not only put you under stress but also cause your relationships to suffer, especially if you start cutting people off, turning down invites or bringing stress into your interactions with friends and loved ones. A vacation allows us time to reconnect with the people we actually want to have in our lives. Traveling is especially good for deepening bonds between people: vacations are quality time for relationships and shared experiences, good and bad, help bring people together. People with strong bonds tend to feel less stressed, are less susceptible to disease and are less prone to mental health issues such as depression.
5. You Mental Health Will be Better
Physical health improvement isn't the only benefit of taking a vacation; mental health is also affected by whether or not people take vacation time. A study by the Marshfield Clinic in Wisconsin reported that women who took vacation time on a regular basis had a lower risk of depression. A study by the University of Pittsburgh's Mind Body Center had similar findings. Again, multiple factors come into play—such as getting more Vitamin D by visiting a sun destination in the winter or simply allowing the body to recuperate—but there's no denying vacation can lower the risk of mental disorders like depression and burnout. If your boss puts up a fuss about you taking time off, tell them you're doing them a favor—depression-related losses in productivity cost employers around $79 billion every year.
Read Entire article here: http://www.escapehere.com/travel-tips/8-reasons-why-vacations-are-good-f...
The Japanese practice of forst bathing is scientifically proven to be good for you. Until now we did not know just how good. Northern Minnesota is still in pristine condition with 100's of native tree species including Balsam fir. Black spruce. Eastern hemlock. Eastern red cedar (juniper) Eastern white pine. Jack pine.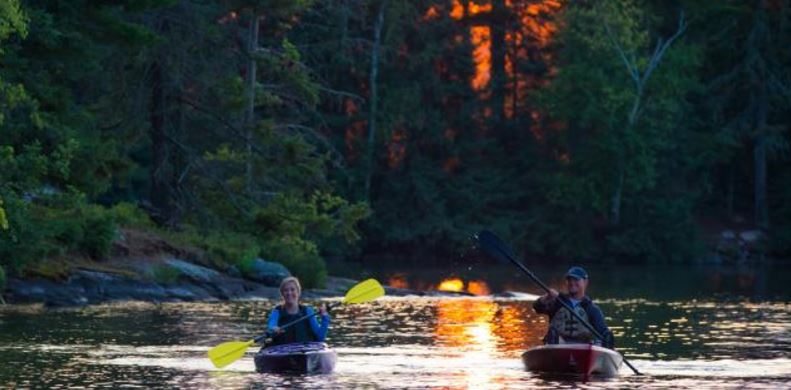 Northern white cedar. Red pine (Norway pine) and many more. We know trees help humans and other living things in many ways.
Among them, they:
remove carbon dioxide (a greenhouse gas) and other pollutants from the air

produce oxygen
provide food and shelter for wildlife
provide wood products
add beauty to the landscape
provide a pleasant environment for recreation
help reduce residential energy consumption by shading homes in summer and sheltering them from wind in winter
help protect streams and lakes by reducing runoff
reduce noise pollution by absorbing sound
From 2004 to 2012, Japanese officials spent about $4 million dollars studying the physiological and psychological effects of forest bathing, designating 48 therapy trails based on the results. Qing Li, a professor at Nippon Medical School in Tokyo, measured the activity of human natural killer (NK) cells in the immune system before and after exposure to the woods. These cells provide rapid responses to viral-infected cells and respond to tumor formation, and are associated with immune system health and cancer prevention. In a 2009 study Li's subjects showed significant increases in NK cell activity in the week after a forest visit, and positive effects lasted a month following each weekend in the woods.
This is due to various essential oils, generally called phytoncide, found in wood, plants, and some fruit and vegetables, which trees emit to protect themselves from germs and insects. Forest air doesn't just feel fresher and better—inhaling phytoncide seems to actually improve immune system function.
Experiments on forest bathing conducted by the Center for Environment, Health and Field Sciences in Japan's Chiba University measured its physiological effects on 280 subjects in their early 20s. The team measured the subjects' salivary cortisol (which increases with stress), blood pressure, pulse rate,
 and heart rate variability during a day in the city and compared those to the same biometrics taken during a day with a 30-minute forest visit. "Forest environments promote lower concentrations of cortisol, lower pulse rate, lower blood pressure, greater parasympathetic nerve activity, and lower sympathetic nerve activity than do city environments," the study concluded.
In other words, being in nature made subjects, physiologically, less amped. The parasympathetic nerve system controls the body's rest-and-digest system while the sympathetic nerve system governs fight-or-flight responses. Subjects were more rested and less inclined to stress after a forest bath.
Trees soothe the spirit too. A study on forest bathing's psychological effects surveyed 498 healthy volunteers, twice i
n a forest and twice in control environments. The subjects showed significantly reduced hostility and depression scores, coupled with increased liveliness, after exposure to trees. "Accordingly," the researchers wrote, "forest environments can be viewed as therapeutic landscapes."
City dwellers can benefit from the effects of trees with just a visit to the park. Brief exposure to greenery in urban environments can relieve stress levels, and experts have recommended "doses of nature" as part of treatment of attention disorders in children. What all of this evidence suggests is we don't seem to need a lot of exposure to gain from nature—but regular contact appears to improve our immune system function and our wellbeing.
Read the entire article here:https://qz.com/804022/health-benefits-japanese-forest-bathing/