Spectacular new Grand Vermilion Chalet, a grouping of four gorgeous townhouse-style units, all under one roof. Open year round!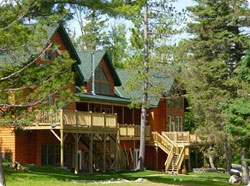 The Grand Vermilion Chalet is perfect for family reunions, retreats, and business groups. The four two-story units making up the Chalet are similar in design and feel to recently built Pehrson Lodge cabins Chickadee and Sandpiper. While this building is new and grand, great care has been taken to blend it with its historic resort surroundings. Its architectural design retains the feel of this Classic Minnesota Resort.
The walkout level houses a gathering/meeting space room with excellent lighting., spacious patio, A/V equipment and a catering kitchen. The Main floor sundeck features a 360-degree outdoor fireplace and plenty of space for your group to spread out and enjoy each other's company.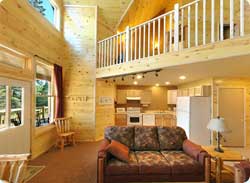 Each unit features vaulted ceilings, lake views through two-story glass, an indoor gas fireplace, central-air, TV (but you can pretend it's not there!) and telephone. For added convenience, the new guest laundry facility is located in the walkout level. "Lighthouse" and Harbor View", on the two ends of the building, have four bedrooms and three baths. "Moorings" and "Beacon", centrally located, each have two bedrooms and two baths.
For added flexibility, four-bedroom "Harbor View" and two-bedroom "Moorings" are adjoining, and can be rented as a six-bedroom unit. The Chalet may be rented in its entirety, or in 2, 4, or 6-bedroom increments.
We are excited to offer this gorgeous addition to your cabin options.