Lake Vermilion has always been known for a very strong Small Mouth Bass population. Many people are unaware of a healthy, moderate population of Large Mouth Bass which also provides plenty of action for anglers.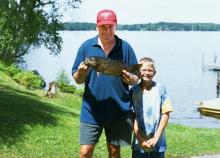 The smallmouth bass has been referred to as America's greatest sports fish and is pound for pound the strongest fighter that swims in Lake Vermilion. The abundant rock/gravel shoreline areas combined with the lakes many islands and offshore rock reefs makes for ideal smallmouth habitat.
Equipment used to catch walleye, such as a 6 or 6 1/2 foot graphite spinning rod and reel combination with 6-10 pound monophiliment line or a bait-caster set-up with 6 to 14 pound superline will cover all the seasonal presentations used to catch smallmouth on Lake Vermilion.
Smallmouth move to the shallows to spawn in late May or early June, when water tempseratures reach 58 to 65 degrees. They prefer to make their "beds" or "nests", on rock or sand /gravel shorelines in 2 to 4 ft. of water. Bull-rushes are a good clue to these types of areas as they grow out of some of these clean bottom type locations. Males guard the newly hatched fry for up to 2 weeks after the spawn, which makes them susceptible o over harvest. Senkos, tube jigs or minnow imitation type baits on or near spawning areas will often illicit savage strikes and is some of the funnest fishing of the season. Catch and release is strongly encouraged, so fish may protect their nests from marauding panfish ensuring strong smallmouth populations for generations to come.
While rocky, sand/gravel shorelines combined with cover producing downed timber and docks are good year round locations, a good number of fish will move to off shore rock reefs during post spawn or about mid-June. Walleyes prefer solitary reefs that top out at 8 to 15 ft. of water while smallmouth like reef/island clusters that come closer to the surface. Spinner baits, stick baits and surface plugs will catch summer time Vermilion smallmouth. Crawdad colored deep diving crankbaits, or drop shotting will catch fish on sunny calm days when smallmouth will drop off the sides of reefs into as much as 30 ft. of water.
Late September is a beautiful time on Lake Vermilion and will find some smallmouth moving to deeper water. Tips of main lake points and steeper shoreline breaks in as much as 35 to 50 ft. of water are good places to try. 3/8 to 1/2 oz. jigs tipped with live or artificial bait and Lindy-rigging are good late season bets. Don't be surprised if you catch walleye in these locations, as these two species prefer the same type of habitat this time of year.
While the walleye is the king of the North Country and the musky has received a great deal of attention of late, we are very fortunate to support a healthy, thriving, feisty population of smallmouth bass. These fish reach upwards of 6 pounds and can provide some of the most exciting and memorable fishing of the season. Come on up and experience what Vermilion has to offer.
Tim (Buck) Lescarbeau
H-(218) 254-3815
C-(218) 969-1022
Most DNR work is conducted on the small mouth population. Small mouth populations are tested through electrofishing. Annual electrofishing since 1990 has yielded an average of approximately 37 fish per hour. The past two years of electrofishing have yielded 59 and 54 fish per hour, well above the long term average. We can expect some very good years of bass fishing ahead.