Over 40,000 acres, 1,200 miles of shoreline and 365 islands make Lake Vermilion a fisherman's paradise.  Lake Vermilion is also recognized as Minnesota's new, untapped muskie fishing resource.  Truly the king of Minnesota fish, the muskie will give you the fight of your life.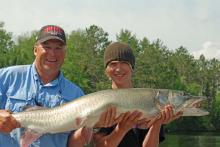 Lake Vermilion truly is Minnesota's new untapped muskie fishing resource. Muskie were first introduced into Vermilion in 1968 with limited additional stocking through 1985. The current program (stocking Leech Lake strain) was started in 1987. From 1987 to 1995 5,000 muskie were stocked in vermilion annually. From 1995-2001 5,000 muskie were stocked every other year.
The muskie of Lake Vermilion are one of the great success stories of fisheries management. We have seen a number of fish in the 50" plus class and several 55"-56". According to DNR testing over 15% of the muskie in Vermilion exceed 50". In addition to outstanding health and growth of the musky, natural reproduction is taking place. It looks like the muskie is here to stay.