Numerous shallow bays, weed edges and rock structures hold a solid northern population on Lake Vermilion.
Lake Vermilion Northern Pike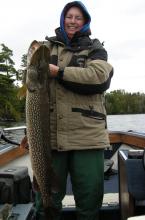 The Northern Pike, also known as a snake, slimer, waterwolf, etc., is one of the most exciting fish to catch. Filleted properly, the smaller pike under 24 inches, make excellent table fare and are often preferred over walleye. If you are looking for action, Northerns are generally cooperative in keeping your rod bent no matter what the conditions. I've heard Doug Stange, editor in chief of In-Fisherman magazine, say "A 40 inch northern pike anywhere (in the country) is a real trophy!" I agree and you couldn't find a better lake to catch one than Vermilion. Early in the season from opener until about mid June, casting in-line spinners and shallow running minnow baits in muddy bays with cabbage is hard to beat. As weed growth peaks through August, fish spinnerbaits and larger in-line bucktails over deeper weeds and weed edges. As weeds begin to die in September, key in on green weed beds and rocky points, casting crankbaits, big bucktails and try some trolling.
Hopefully some of these tactics will help you put that 40 inch plus, pike in the net!
Please release these big fish, as they tend to hover around being 20 years old or more. Take a nice photo with measurements and have a replica made. Don't be surprised if you hook into a muskie or other species of fish, while following these tactics.
Hang On and Have Fun!
Billy Rosner
Wild Country Guide Service
www.vermilionguide.com
The fishery has been improved in recent years by the application of a special regulation in 2003. All northern from 24" to 36" are protected. Three fish under 24" or two fish under 24" and one over 36" may be kept. The result is an improved size structure in the northern population. Currently, the average northern sampled in DNR test netting is nearly 27", with larger northerns into the mid 30's and the 40's very possible.