Plan your Minnesota birding vacation in our Northern Minnesota wilderness. Situated in the transition zone between the northern temperate forest and the boreal forest, our Superior National Forest location hosts the greatest diversity of breeding birds of any national forest.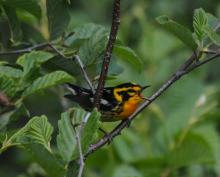 In addition, Lake Vermilion is home to 25 pairs of breeding osprey and more than a dozen pairs of breeding bald eagles, the largest concentration in the forest. Also, the Sportsmen's Club on the lake counted 256 loons in a recent survey. Bob Jansen, author of "Birds of Minnesota" and Jim Williams, editor of "Minnesota Birding" identified 92 species of birds in one brief spring visit before many of the summer species had even arrived!
Here's a list of all birds sighted at Pehrson Lodge or on local field trips. Our national forest location is also home to many of North America's most exciting mammal species. Search for wolves, deer, moose, bear, otter, beaver, mink, fisher and otherwildlife.
Common Loon
Pied-billed Grebe
Horned Grebe
Red-necked Grebe
American White Pelican
Double-crested Cormorant
American Bitters
Great Blue Heron
Green Heron
Turkey Vulture
Snow Goose
Ross's Goose
Canada Goose
Trumpeter Swan
Wood Duck
Gadwall
American Widgeon
American Black Duck
Mallard
Blue-winged Teal
Green-winged Teal
Canvasback
Ring-necked Duck
Greater Scaup
Lesser Scaup
Surf Scoter
Black Scoter
Bufflehead
Common Goldeneye
Hooded Merganser
Common Merganser
Red-breasted Merganser
Osprey
Bald Eagle
Northern Harrier
Sharp-shinned Hawk
Northern Goshawk
Broad-winged Hawk
Red-tailed Hawk
American Kestrel
Merlin
Peregrine Falcon
Ruffed Grouse
Spruce Grouse
Sharp-tailed Grouse
American Coot
American Golden-plover
Killdeer
Greater Yellowlegs
Spotted Sandpiper
Common Snipe

American Woodcock
Bonaparte's Gull
Ring-billed Gull
Herring Gull
Caspian Tern
Rock Dove
Mourning Dove
Black-billed Cuckoo
Great Horned Owl
Great Gray Owl
Boreal Owl
Northern Saw-whet Owl
Common Nighthawk
Chimney Swift
Ruby-throated Hummingbird
Belted Kingfisher
Yellow-bellied Sapsucker
Downy-Woodpecker
Hairy Woodpecker
Black-backed Woodpecker
Northern Flicker
Pileated Woodpecker
Least flycatcher
Eastern Phoebe
Eastern Kingbird
Warbling Vireo
Red-eyed Vireo
Gray Jay
Blue Jay
American Crow
Common Raven
Tree Swallow
Northern Rough-winged Swallow
Bank Swallow
Cliff Swallow
Barn Swallow
Black-capped Chickadee
Red-breasted Nuthatch
White-breasted Nuthatch
Brown Creeper
House Wren
Winter Wren
Sedge Wren
Ruby-crowned Kinglet
Eastern Bluebird
Veery
Swainson's Thrush
Hermit Thrush
American Robin
Gray Catbird
Brown Thrasher
European Starling
Cedar Waxwing

Tennessee Warbler
Nashville Warbler
Northern Parula
Yellow Warbler
Chestnut-sided Warbler
Magnolia Warbler
Cape May Warbler
Yellow-rumped Warbler
Black-throated Green Warbler
Blackburnian Warbler
Palm Warbler
Blackpoll Warbler
Black-and-white Warbler
American Redstart
Ovenbird
Northern Waterthrush
Connecticut Warbler
Mourning Warbler
Common Yellowthroat
Wilson's Warbler
Scarlet Tananger
Chipping Sparrow
Clay-colored Sparrow
Savannah Sparrow
LeConte's Sparrow
Song Sparrow
Lincoln's Sparrow
Swamp Sparrow
White-throated Sparrow
Dark-eyed Junco
Chestnut-collared Longspur
Rose-breasted Grosbeak
Bobolink
Red-winged Blackbird
Eastern Meadowlark
Western Meadowlark
Yellow-headed Blackbird
Brewer's Blackbird
Common Grackle
Brown-headed Cowbird
Baltimore Oriole
Pine Grosbeak
Purple Finch
Red Crossbill
White-winged Crossbill
Common Redpole
Pine Siskin
American Goldfinch
Evening Grosbeak
House Sparrow