Over 40,00 acres, 1,200 miles of shoreline and 365 islands make Vermilion a fishermen's paradise. Long renowned as one of Minnesota's best walleye lakes, Vermilion has been a top walleye producer for decades.
Lake Vermilion Walleye Tactics
Lake Ver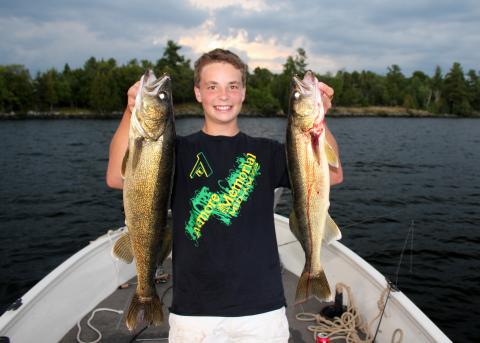 milion is a classic Canadian Shield Lake, with over 1200 miles of mostly rocky shoreline and 44,00 acres. There are approximately 350 island scattered throughout the lake.
Walleye are probably the most sought after fish on Vermilion, but what makes this area such a great destination is that it is a strong fishery for many species of fish. Smallmouth and Largemouth bass, crappie, bluegill and perch can be found on good numbers. Northern Pike are another popular fish and since 1986 a very successful muskie stocking program has made Vermilion one of the premier muskie lakes, with many 50" fish being caught.
There are several things to keep in mind when you are looking for walleye in the spring. Vermilion warms up slowly and because of this the shallowest bays are a great place to start fishing. Black Bay, Norwegian Bay and Wakemup are good areas and I would recommend finding the warmest water and starting there. Early morning I would start with minnows fished very slowly with a jig or Lindy Rig type presentation. I have also had luck anchoring in these areas with slip bobbers, fishing minnows 1 or 2 feet off the bottom. This keeps your bait free of muck and weeds.
Minnows are a great early season bait and leeches would be my second choice. Leeches work better as the water starts to warm up, usually by the first or second week of June. As the water starts to warm a lot of walleyes move to the mid-depth flats (10-15ft.). Another place to look would be rock breaks near these types of flats or near shallow spawning bays. Small jigs or slip bobbers fished with leeches are great choices for these rocky areas.
July is the toughest time to get on a consistent walleye bite. Deep wed lines are a good place to try in the summer heat. Morning and evening are the best time to try for walleye all year but this is especially try in mid-summer. Slow trolling leeches and crawlers along weed lines (10-12ft.) can still produce some nice fish. The deeper rock structures (12-25ft.) fished with slip bobbers are also a good bet. I've caught a lot of nice smallmouth with this method, and the great action bass provide can turn a slow walleye day into a great fishing day.
In August walleye schools can be found on deep hard bottom or sand flats (20-30ft.). Night crawlers worked with Lindy Rigs or spinners start to produce well. Some guides like to troll these deep flats with Rapala-type minnow lures and have good success when they find walleye on the flats chasing perch minnows.
Fall is a beautiful time to visit Vermilion. After Labor Day the water starts to cool and the fishing gets more consistent. The food base (mainly perch minnows) is depleted and walleyes get a little easier to catch. I still fish crawlers a lot in the early fall using either a Lindy or a lead headed jig.
Later in September and early October minnows work well. You'll still find some fish shallow but don't overlook the deep water (30-40ft.). The temperature in deep water moderates and some fish like to move into deeper water in the fall especially during late morning and mid-day.
No matter what time of year you visit Vermilion, it can't be beat. Very few lakes in Minnesota offer such a large variety of fish species plus the beauty and solitude fishermen are searching for.
Remember this little line told to me many years ago by friend and fellow guide Joe. P. The fishing is always good. It's that some days the "Catching" can be a little slow.
Good Luck and Good Fishing.
Doug Knoer
Vermilion Guide Service
Vermilion is one of just a handful of lakes with the rare distinction of having its own fisheries biologist and walleye hatchery. Since 1984 Vermilion has been carefully studied and monitored to cultivate the healthiest fishery possible. As an example, Vermilion is a class II (class II is the classification for large Canadian shield lakes of northern Minnesota like Vermilion) lake. The long term DNR test net results for walleye in MN class II lakes is 6.3 fish per net. Vermilion's long term average is 13.4 fish per net.
Walleye regulations: Four fish possession limit with protected slot of 18"-26". One fish over 26" permitted in bag.