Minnesota Family Vacation
Resort guests here to enjoy a "Minnesota Family Vacation" are encouraged to try Sailing, kayaking, water-skiing, wake boarding, hydro-biking, windsurfing, horseshoe pits, croquet, ping-pong, volleyball, basketball, canoeing, paddle boating and swimming. Swing/gym set. Paved walking path.
Pehrson Lodge is fortunate to have a beautiful natural sand beach, one of only a handful on Lake Vermilion. The beach is the focal point of the resort in the summer months. Families gather daily to swim in the cool waters, build sandcastles, play volleyball, gather at the fire ring or use one of the Rainbow play structures.
In addition, guests are welcome to use a variety of non-motorized watercraft to further enjoy the waterfront. Sea kayaks, Hydro-bikes, canoes, sailboards and sail boats are available daily. We are also happy to provide instruction as needed.
Sunday is waterskiing day! We tow all experienced skiers first, followed by lessons for beginners. The only prerequisites for beginners are strong swimming ability, confidence in the water and large enough feet to fit in the ski bindings.
Back to our Minnesota Resorts homepage.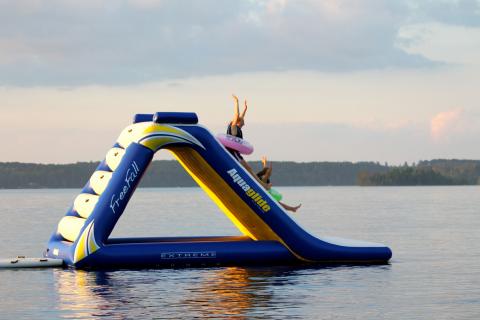 FREE USE OF:
Sunday waterskiing for all weekly guests who can swim.
Kayaks, Canoes, Paddleboats
Sailboats, Windsurfers, Hydro Bikes
Stairmaster
Concrete Boat Ramp
Dock space with electric access for your personal boat